Join us in conjunction with Tongariro Wilderness Adventures for the ultimate private mountain e-biking adventure in the Central North Island and stay in a remote lodge for the night.
This is not a standard mountain bike trip as we take a maximum of 8 people per trip. This means you will experience a truly private, wilderness adventure, with your very own on-site accommodation and a dedicated host.
Only you, your mates and our friendly, expert team will be taking part in sharing this exclusive e-bike adventure ride.
If you don't have your own e-bikes, we have our own fleet available to hire. This means, the trip is suitable for everyone with Intermediate or above riding experience and enthusiasm.
Located near our base in Turangi, it doesn't take long to arrive at this breathtaking and isolated property.
COVID-19: We are open and rafting at all red/orange/green levels, masks are required within our building and vehicles, if you are feeling unwell we are happy to arrange a refund or reschedule your booking. 
Wilderness E-Biking Adventure 
Price
$595 
$120 two day e-bike hire
All food, logistics, transportation and accommodation included in cost.
When:
Two day adventure leaving on Demand
Departure Points:
95 Atirau Road Turangi 
What you need to bring:
Biking attire – pants, shirt, shoes etc
Water Bottle
Your own e-bike (optional)
Change of clothes for the evening at the Lodge.
Inclusions:
Accommodation 
Our local, friendly guide
Lunch on day 1 
Dinner on day 1
Breakfast on day 2
Snacks/Drinks during the rides
Bike helmet
Notes:
Maximum of 8 per booking
*Only applies to bookings for midweek adventures. 
As we drive in, keep your eyes out for the deer that are all around, playing in the forest. Here, you will also get the first taste of what's in store for you over the next two days. The rolling hills, varying landscape and true wilderness.
With a quick warm up to get started, you'll soon be grateful for the assistance from the e-bike as you take off and tackle the hills.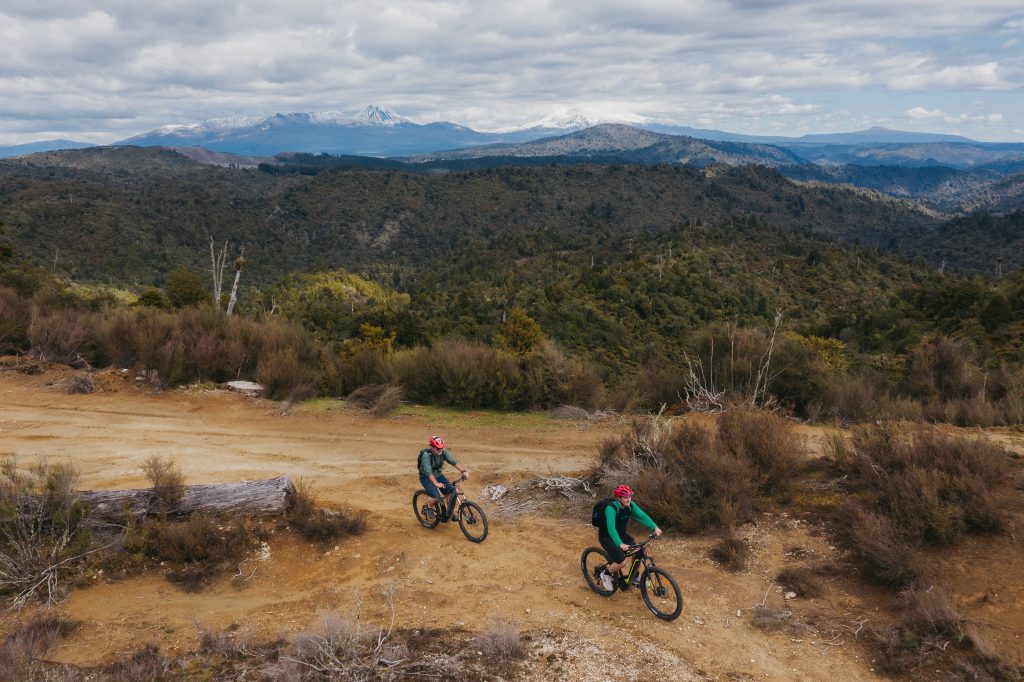 Adventure Riding at its best!
The tracks we ride are the old logging tracks, developed many decades ago, but untouched for years now.  These are not purpose built tracks – you'll have a mixture of gravel, dirt, grass with a healthy mix of uphills and downhills.
Each track tells a story and this is adventure riding at its best!
To add that touch of luxury, we'll provide a fully catered lunch in the middle of your ride overlooking the stunning landscape of the central North Island. On a clear day, you'll be rewarded with panoramic views over the volcanic plateau as well as you re-fuel for the next stint.
The morning is really a warm-up for what is to come after lunch. Here you face steep up hills, twisting and turning downhills, and even a river or two.
Luckily, it's nothing the e-bikes can't handle with ease.
Before you know it, you'll be riding through the gate of the lodge, signalling the end of your ride for the day.  Day 1 will be 40kms of riding.
Relax in your private lodge
This private, off-the-grid lodge and it is exclusively yours when you come and ride with us.
There are individual rooms, ensuring your own space, and a shared living area, kitchen, dining room and a wood burner for the cooler nights.  There's a large deck with plenty of seating where you can simply relax and disconnect.
Overlooking a great ravine, with no sounds but yourselves, a running river and animals frolicking, you can celebrate a day well spent with a beer, wine and catered meals.
Depending on conditions we'll sit around the roaring fireplace and relive
the best bits of the day so far.  This is often the best part of the weekend – you and your mates with a few quiet drinks in a private lodge, immersed in nature and away from technology sharing a few laughs.
Bikes are charged overnight for the next days' adventure where we will hop back on the bikes and say goodbye to the lodge as you ride the rest of the track.
Day two will be a cheeky 17km ride, to round out the weekend.
Our van will meet you at the end to take you back to our base and finish the adventure.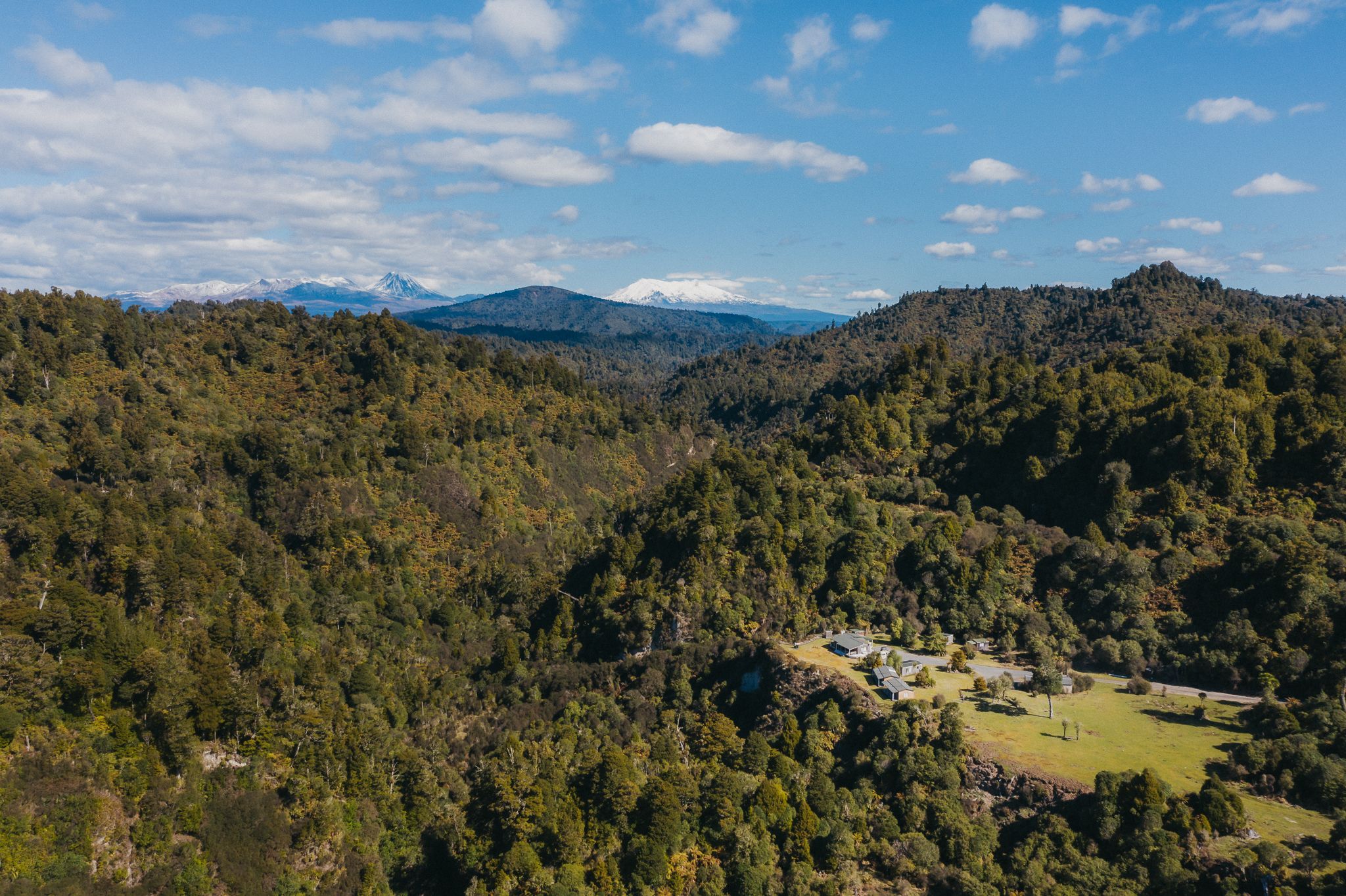 Tailor Your Adventure
As this is a private and exclusive trip for you and your mates, we are more than happy to adapt it to suit your needs.
Your group can also participate in deer hunting, or feeding or perhaps a guided walk around parts of this 10,000 acre setting – ask us about the options.
Many of our guests love to add a thrilling white water rafting experience on the Tongariro River to round off their break.